Kids club event June 22 will kick off 'Royer's Stems Hunger' to benefit food banks
posted: 05/14/2013
The Royer's Kids Clubs event on June 22 will help kick off the annual Royer's Stems Hunger food drive.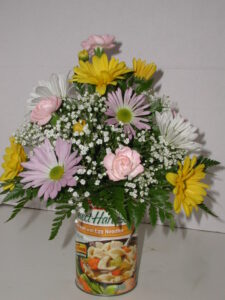 Children ages 5 to 12 are asked to donate a non-perishable food item as the price of admission and to bring an empty food can to fill with flowers.
Participants also will have an opportunity to enter the kids club's birthday card design contest for a chance to win a flower delivery.
Time slots are available at 10 a.m., 2p.m. and 3 p.m. at each of Royer's 17 stores in Berks, Cumberland, Dauphin, Lancaster, Lebanon and York counties. Registration is required by calling your nearest Royer's store.
Royer's Stems Hunger is June 21-29. Food will be collected at all Royer's stores to benefit the Central Pennsylvania Food Bank and the Greater Berks Food Bank.
###
---
Record attendance at Saturday's Royer's Kids Club event
posted: 03/18/2013
Click to view slideshow.
There's a spring in our steps after Saturday's Royer's Kids Club event, and not just because it involved hyacinth plants for Easter.
We've been offering kids club events for six-plus years but never had a turnout as big as the 517 children who joined us this time. Thanks to the kids and the parents who joined us.
This is our biggest year of kids club events ever, with three more to come:
June 22: Royer's Stems Hunger
Aug. 17: Back to school
Oct. 26: Halloween/Bouquets for Books
Remember that it's free for children ages 5 to 12 to join the kids club: just stop by any store or fill out the registration form on our website.
We look forward to seeing another big crowd in June.
---
MORE NEWS >>
Buds Newsletter