Stems Hunger
Royer's Stems Hunger
June 16 - 30, 2018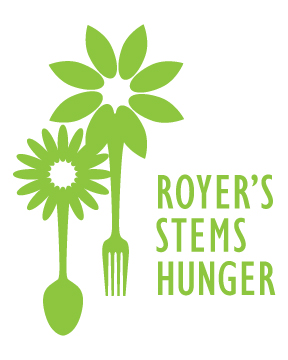 Royer's Flowers & Gifts' annual food drive returns June 16 - 30.
Royer's Stems Hunger benefits the Central Pennsylvania Food Bank and the Greater Berks Food Bank.
For each non-perishable food item, donors will receive a free carnation (limit six per visit). Donations may be dropped off at any
Royer's store
during normal business hours.
Additional drop-off locations are available at Drayer Physical Therapy Institute outpatient centers: 3 Jennifer Court, Suite A, Carlisle; 120 N. Baltimore St., Suite 110, Dillsburg; 5000 Commons Drive, Harrisburg (Colonial Park); 840 Helen Drive, Suite 200, Lebanon; 2805 Old Post Road, Suite 110, Harrisburg (Linglestown); 8205 Presidents Drive, Hummelstown (corporate office); 5108 E. Trindle Road, Suite 200, Mechanicsburg; 97 Progress Blvd., Suite 2, Shippensburg.
Most Needed Food
Non-perishable items rich in protein, which are essential to providing adequate nutrition, are the most desired food drive donation items.
Videos
About The Central Pennsylvania Food Bank
The Need for Food During the Summer
How the Central PA Food Bank works with Royer's Stems Hunger
Find a Store Near You
Enter your zipcode to see the store closest to you.